The Edge II shares philosophy and design approach of classic APCO harness.
Its concept is based on modern principles, with special attention to safety and performance of the harness.
The Edge II now has the necessary edge to be competitive. Modern attractive design, more comfortable, lighter and more advanced, but still robust and well built to last for years. Based on Edge, but implementing all accumulated experience during its lifetime, the new Edge II offers many advantages over previous version. Equipped with new lighter Quick Lock Buckles, sophisticated airmesh padded back support and new attractive color design, perfectly geared to meet the challenges of today's market.
Lighter easy to operate Quick Lock Buckle
Sophisticated color design
High density, lighter, stronger cloth
Ventilated, orthopedic back support for ultimate comfort aided by semi-rigid elements integrated into the back of the harness to spread load
Very clean outline – molded, clean shape, no wrinkles, no sagging or baggy look
Low drag – slim, narrow profile.
Low volume – easy to pack
Emergency Parachute located at bottom of harness – with deployment handle on the side, easily accessible, perfect spot.
Webbing system with integrated "don't forget leg-strap" webbings, eliminating the possibility of launching with unsecured leg straps (3 separate locking points – two for legs and third for chest) Quick Lock Buckle
Versatile accelerator system with floating seat plate – for additional drag savings in accelerated position and easy in and out from the harness
Accepts most airfoam protectors available, including APCO standard 15cm. protector and plate
Foam cushion placed between emergency parachute and seat plate for additional impact protection (DHV compatible)
Side protector option – high energy absorbing polystyrene
Ample space in back pocket for storage of bag etc.
Prepared to hook-in radio or ballast in the back space
Integrated side pocket
Built-in ABS system for adjustment of weight shift control
Designed to accept any APCO karabiner, including the 3 Ton forged Karabiners
Available in 3 sizes – S/M, L/XL and XXL
No hard elements
Can be equipped with foot rest for supine flying and added comfort
Two internal side pockets for camera and radio storage
Weight shift sensitivity adjuster (webbing adjustments for rear of seat plate)
Partial front neoprenne closure
Ultra durable, friction resistant bottom cloth
Additional internal document pocket in the back
Airmesh lining for breathability and comfort – all parts in contact with the body
APCO's famous Wonder Bar compatible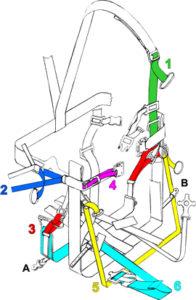 1. Shoulder Length adjuster

2. Side reclining position adjuster

3. Weight shift sensitivity adjuster

4. Chest webbing adjuster

5. Adjuster for front part of seat

6. Leg strap

A. Back accelerator pulley

B. Front accelerator pulley
| SIZE | S/M | L/XL | XXL |
| --- | --- | --- | --- |
| Pilot Height | Up to 170cm | 170 - 185cm | 180 and up |
| Back Length (mm) A | 680 | 750 | 790 |
| Seat Length (mm) B | 370 | 410 | 470 |
| Seat Width (mm) C | 350 | 390 | 400 |
| Distance between Karabiners (mm) D | 375 - 575 | 375 - 575 | 375 - 575 |
| Supported Back Length (mm) E | 400 | 420 | 420 |
| Hook-in Height (mm) F | 390 | 415 | 440 |
| Weight of Harness | 3.450 [Kg] | 3.550 [Kg] | 3.650 [Kg] |
| Standard Seatplate | 0.500 [Kg] | 0.500 [Kg] | 0.500 [Kg] |
| Airfoam Protector | 0.750 [Kg] | 0.750 [Kg] | 0.750 [Kg] |
| Airfoam Lexan Plate | 0.300 [Kg] | 0.300 [Kg] | 0.300 [Kg] |
| Side plate set of 2 | 0.120 [Kg] | 0.120 [Kg] | 0.120 [Kg] |
| Total weight incl. options | 5.120 [Kg] | 5.220 [Kg] | 5.320 [Kg] |
| Dimensions Sketch | | | |
| Certification | |
| --- | --- |
| Coming soon | |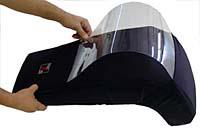 Foam Protector and Lexan Sheet
The EDGE has a pilot protection system, combining the usual airfoam type protector with a lexan sheet (47143) which aids in spreading the load over the absorbing area of the airfoam and a Polystyrene side impact protector which offers the maximum protection available to a paraglider pilot today.
Test results conducted by DHV confirm that our standard 15cm Airfoam protector is fully in line with DHV requirements when used in combination with Edge type harness.

Side Protectors
It is fitted by opening the zip running along the bottom of the harness, below the seat board, and connecting it to two rubber bands through the slits made in the side protector (make sure to put the rubber band through the slit from the flat side of the side protector to the round side of it). Slide the side protector to its place and close the zip running along the bottom of the harness.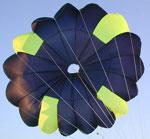 Mayday Emergency Parachute
The EDGE has an integrated emergency parachute compartment, designed to the standard specifications.
It is ideally suited to take the range of APCO Mayday parachutes which have proven themselves time and time again, saving hundreds of pilots over the years

Black / Orange

Black / Blue

Black / Green
Black / Red
42102 – Edge II S/M
42202 – Edge II L/XL
42302 – Edge II XXL
42150 – Airfoam Protector
47143 – Airfoam lexan plate
46160 – Side plate set of 2
Frequently Asked Questions
Different size?
Please contact us for different sizes.
Harnesses – Sizing Table
Harness
Size
Code
Harness Weight [Kg]*
Pilot Size (cm)
Back Length (mm) - A
Seat Length (mm) - B
Seat Width (mm) - C
Dist. between Karabiners (mm)- D
Supported Back (mm) - E
Hook-in Height (mm) - F
Pod Length - G
First III
Multisize with
zipper expander
48133
2.145 (incl.)
140-190
Hike
one size
47030
1.300 (incl.)
160 to 190
610
430
230 x 2
295 - 490
320
420
Chairbag Integral V
one size
46030
3.240 (incl.)
160-185
700
390
380
385 - 575
450
430
Ritma
S/M
45050
3.900 (incl.)
Up to 170
680
400
390
420 - 615
360
420
Ritma
L/XL
45100
4.000 (incl.)
170-185
750
435
400
420 - 615
400
415
Ritma
XXL
45150
4.100 (incl.)
180 and up
750
435
400
420 - 615
400
405
Spark II
S/M
43102
5.120 (incl.)
Up to 170
740
370
350
375 - 575
400
390
Spark II
L/XL
43202
5220 (incl.)
170-185
775
410
390
375 - 575
420
415
Spark II
XXL
43302
5320 (incl.)
180 and up
790
470
400
375 - 575
420
440
Kitto
S / M
44310
2710 (incl.)
up to 185
Kitto
L / XL
44320
2840 (incl.)**
180 - 205
Swift Race
M/L
44610
5.950 (incl.)
up to 190
640
410
320
395 - 540
360
440
900 - 1000
Swift Race
XL
44620
6.150 (incl.)
185 and up
700
460
340
360 - 535
370
480
1000 - 1100
Swift Sport
M/L
44630
5.310 (incl.)
up to 190
640
410
320
395 - 540
360
440
900 - 1000
Swift Sport
L/XL
44635
5.510 (incl.)
185 and up
700
460
340
360 - 535
370
480
1000 - 1100
Swift Zero
M/L
44640
4910 (incl.)
up to 190
640
410
320
395 - 540
360
440
900 - 1000
Swift Zero
L/XL
44645
5.110 (incl.)
185 and up
700
460
340
360 - 535
370
480
1000 - 1100
2 Light
one size
42610
1.300 (incl.)
160 to 190
610
430
230 x 2
295 - 490
320
420
Tandem Pilot Harness
one size
42400
4.500 (incl.)
Up to 195
Tandem Passenger Harness
one size
42500
3.300 (incl.)
a wide range
of passenger sizes
Split Legs Paramotor
HIGH Hook-In points
S/M with
zipper extender
43400
1.590 (incl.)
Up to 185
600/660
260
230x2
340-500
380/440
600/690
Split Legs Paramotor
HIGH Hook-In points
L/XL with
zipper extender
43410
1.590 (incl.)
185 and up
630/690/750
300
260x2
320-530
420/480/540
620/710
Split Legs Paramotor
LOW Hook-In points
S/M with
zipper extender
43500
1.590 (incl.)
Up to 185
600/660
260
230x2
340-500
380/440
420/480
Split Legs Paramotor
LOW Hook-In points
L/XL with
zipper extender
43510
1.590 (incl.)
180 and up
630/690/750
300
260x2
320-530
420/480/540
420/480/540
Universal Paramotor
Multisize with
zipper extender
41015
3.100 (incl.)
Up to 190
630/690
430
390
240-640
440/500
460/680/750
SLT Paramotor Harness
High Hook-Up points
Multisize with
zipper extender
28015
2.550 (incl.)
Up to 190
660/720
400
380
360-610
380/440
590/680
SLT Paramotor Harness
Low Hook-Up points
S/M with
zipper extender
420425
2.495 (incl.)
Up to 185
660/720
400
380
360-610
380/440
340/360
SLT Paramotor Harness
Low Hook-Up points
L/XL with
zipper extender
420426
2.495 (incl.)
180 and up
660/720
400
380
360-610
380/440
340/360
Trike Pilot
one size
49100
2.850 (incl.)
160-190
690
330+90
430
50
360
420-580
Trike Passenger
one size
49250
2.100 (incl.)
160-190
600
340
410
510
330
350
*Harness weight denotes the total weight of the harness including Standard parts supplied with the harness such as; Seat Plate, Airfoam Protector, vibration foam (PM harnesses), and if relevant, the optional Lexan Plate.
It excludes other optional accessories such as Cockpits, Stirrups, reserve parachutes, zip-on side pickets/reserve containers etc.
**Estimated Weight