Air Xtreme model PHD1
PARAMOTOR HEADSET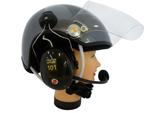 To complete our range of products for ppg flying and following repeated requests from our dealers, we are now also offering headset for communication to be supplied with and without the Free Air Com helmet.
The headset is based is on ear piece from Peltor to insure highest quality transmission and best noise reduction.
One of the only communication headset specially designed for paramotor, high level noisy environments.
This headset guarantees high performance clear communication with long transmission range The headset communication is PTT activated.
Unlike the competition, it has push to talk buttons (PTT) on both left and right ear muffs, allowing for maximum freedom when flying.
The ear muffs can be clicked firmly locked on the ears for maximum noise reduction, or if on the ground can be wide open without need to remove the helmet (see middle two photos above)
The headset can be supplied assembled on Free Air Com or separately, ready to install on helmet
(compatable with most paramotor helmets on the market)
** PLEASE NOTE – DESIGNED FOR 150 [Mhz] AMATEUR RADIOS, NOT COMPATIBLE WITH AVIONIC DEVICES **