Cruiser GT is the pinnacle of the powered parachute world.
A premium version of our market leader Cruiser for those that do not compromise and only accept the absolute best!
The Cruiser GT has several improvements over the standard Cruiser, with the main points being:
Speed ribs – for increased speed, higher stability and better wind penetration – more information below.
Flow Aligned Ribs (FAR) – for optimizing and improving fuel consumption.
Improvements to internal construction to optimize weight, strength and performance by improving surface smoothness.
Choosing the GT will reward the pilot in a faster cruising speed, but the main advantage is the overall stability of the canopy in strong conditions. The improved wind penetration will translate to better safety and higher confidence during flight.
You the pilot will be in full and total control through the air, rather than letting the air control you!
The Cruiser GT is available in 2 sizes – 500 and 550 and is offered in both regular and S configurations.
Wide or narrow attachment versions are available to make each wing a perfect match with the plane type and model.
SPEED RIBS – the details:
This is a brand new feature which offers improved performance, safety and speed.
CONSTRUCTION – Speed ribs are additional internal small trailing edge ribs which serve to improve the surface definition of the trailing edge, creating a more aerodynamic trailing edge.
By adding one additional speed rib between each 2 main ribs, we have practically doubled the amount of cells on the trailing edge of the Cruiser, creating a better defined, more aerodynamic wing.
AERODYNAMICS – Trailing edge vortexes are referred to as parasitic drag.
Drag limits performance, increases fuel consumption and reduces speed.
In order to unleash the full potential of the Cruiser profile, we are introducing a new feature – "Speedribs". When present, the speedribs improve the overall performance of the profile, resulting in a safer, faster, more agile and fuel efficient wing.
The speedribs are a true performance gain with no drawbacks and sleek looks.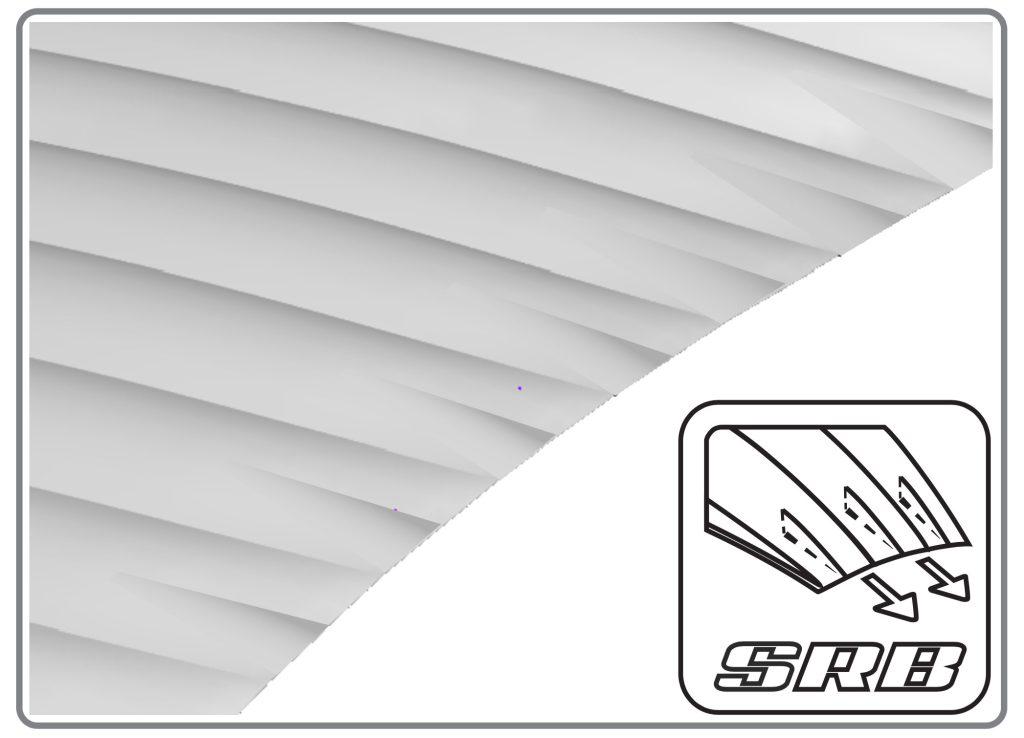 In the image on the left speedribs shown are located on the trailing edge at the middle of each cell, reducing billowing and "Sharpening" the tail for cleaner, more aerodynamic flow behavior.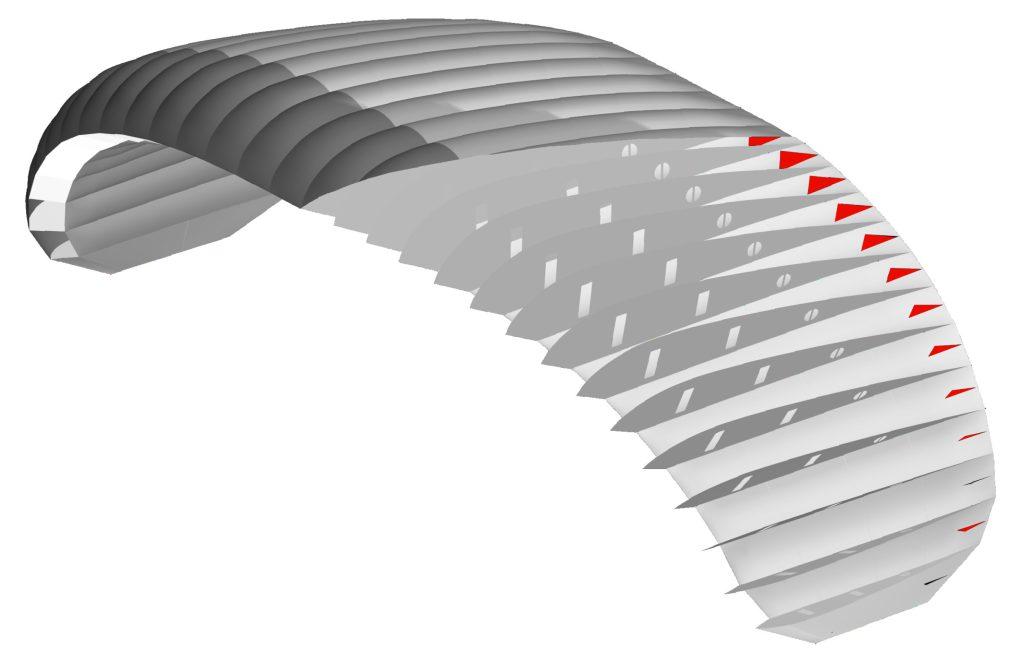 The images below show trailing edge vortex intensity with and without Speedribs
In the images below trailing edge shape without speedribs vs. trailing edge shape with speed ribs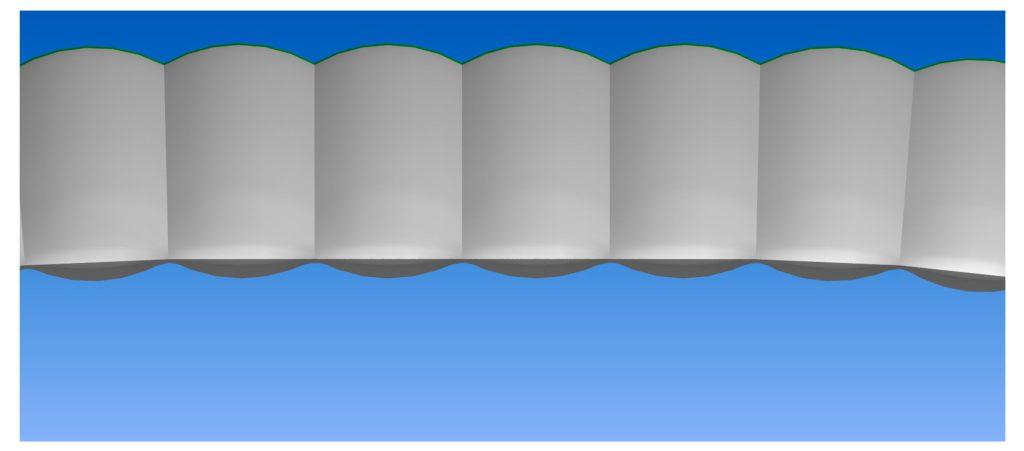 Trailing edge with speedribs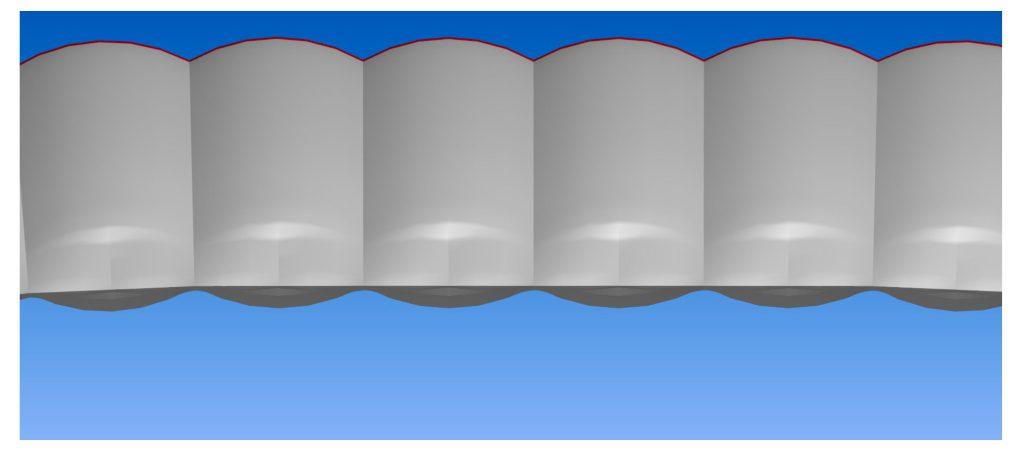 ADVANTAGES – The main advantages of the speed ribs are:
Increased cruising speed
Improved into the wind penetration and stability
Better fuel consumption and reduced RPM due to the drag reduction
Enhanced safety due to the improved glide angle
Improved aesthetics with a cleaner, sharper trailing edge – similar to a fixed wing (planes) – very cool looking!!
The speed ribs offer "free" additional performance. The additional weight is negligible and the rest of the parameters – inflation, safety, handling – are unaffected and remain the best the industry has to offer.
---