Mayday Square
One Day, Maybe, Mayday…
APCO Time-Proven Rescue Systems (since 1984)
Never fly without one!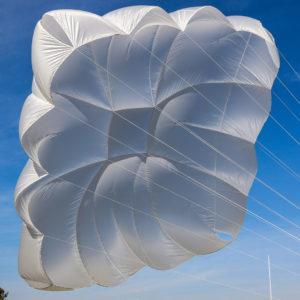 Apco Aviation started manufacturing the Mayday reserve parachute in 1984, and since then put over 30 000 pieces into service in the Paragliding and Hang Gliding markets. The Mayday has hundreds of life saving deployments to its name, from beginners to world champions ( Read letters from saved pilots).
The Mayday Squared follows in the proud tradition of the Mayday Range, and is built to the same exacting standards that has made the Mayday range the benchmark of all reserve parachute systems.
The advantage of the square design is that it gives a more stable descent (less pendulum effect), and therefore has a lower sink rate, combined with a very compact size and weight, making it both the lightest Mayday in our range, and our highest rated gr/kg rating at 9.16 at 120kgs. This makes it a very attractive package for pilots concerned about the weight of their kit.
Officially certified to EN standard at 100 [kg] with sink rate of ~5.4 [m/s].
In addition, the Mayday Square has been load tested to 120 kg. with sink rate of ~5.6 [m/s], perfect in cases where higher load is required at the expense of a slight increase in sink rate.
It is currently available in one size, with a short dyneema bridle, for paragliding or Paramotoring. Apco also manufactures a wide range of accessories for the Mayday range.  This includes different external containers for paramotoring, paragliding and hang gliding, as well as split bridles, long bridle extensions and much more.
Stable descent
Light weight
Low pack volume
Fast Opening
Low Sink Rate
Model
Surface Area [m2]
Weight [kg]
Packed Size (mm)
Packed Volume [cc]
Sink Rate [m/s]
(at 100kg)
Sink Rate [m/s]
(at Max Load)
Max Load [kg]
Grams per kg Load
Certification
MD2 25
25
1,010
200(L) x 190(W) x 80(H)
3000
5.4
5.6
120
10.89
EN - 100kg
Load Tested to 120Kg

The Mayday Square boasts superior light-weight construction and materials. The canopy cloth is PN9 ripstop nylon. The skirt and canopy is reinforced with mil spec nylon tape, neatly wrapped and stitched with a precision double needle machine. The dyneema line attachments are sewn using automated pattern stitches into the canopy, reducing potential weak points while ensuring consistently high quality and strength.
The Bridle is made from 1700kg Dyneema Webbing. The attachment loop is covered with a Teflon sheath, to protect it from dangerous friction which may occur during deployment.

MSM – stands for Military Spec Monkey and confirms that our reserves are made from fabrics, designed and manufactured in accordance to the strictest Military Specifications. This adds another level of quality assurance.
Mayday Squared – Lightweight Square Reserve Parachute
85100: MD-SQ, canopy only unfolded
85101A: MD-SQ, folded in deployment bag 44120SLT
85141: MD-SQ, complete in Universal Container with Flight Deck (80016)
85142: MD-SQ, complete in P/M container
Mayday
Area [m2]
Gores
Weight* [kg]
Volume
[cc]
Packed Size [cm]
Length x Width x Height
Sink Rate [m/s]
(@ max Load)
Max Load [kg]
gr / kg (Load)***
Certification
Mayday Square
25
16
1.010
3000
20.0x19.0x7.0
5.4 @100 Kg
5.6 @120 Kg
120
9.16
EN/LTF Certification - 100kg
EN Load/Drop test - 120 kg
MD 16 SLT
Super Light Round
23
16
1.220
3100
24.5x18.5x11.5
6.15
100
12.20
EN Load/Drop Test by Air Turquoise
MD 16 LT
Light Round
23
16
1.490
3550
27.0x21.0x10.0
6.15
100
14.90
EN Load/Drop Test by Air Turquoise
MD 16
Regular Round
23
16
1.890
4000
28.5x23.0x14.0
6.3
106
17.83
DHV
GS-02-0004-88
MD 18 SLT
Super Light Round
30.4
18
1.597
3950
28.5x22.5x12.0
5.1**
115
13.89
EN Certification EP021.2009
MD 18 LT
Light Round
30.4
18
1.922
4800
31.0x22.5x13.0
5.1
120
15.6
LTF
RG 061.2012
MD 18
Regular Round
30.4
18
2.220
4950
32.0x22.5x15.0
5.4
120
18.50
SHV
PS0992.003
MD 20 SLT
Super Light Round
37.5
20
2.083
4750
31.0x22.0x12.5
4.48**
130
14.80
EN Certification
E.P022.2009
MD 20 LT
Light Round
37.5
20
2.300
5000
32.0x23.0x12.5
4.48**
140
16.43
EN Certification
EP056.2012
MD 20
Regular Round
37.5
20
2.690
5400
32.0x23.0x13
5.4
160
16.85
AFNOR/CEN
200143AP
GMD SLT
Superlight Rogallo
36
16
1.950
5000
30.5x22.0x13.5
4 m/s@(90kg)
4.9m/s@(130Kg)
60-130
15.00
EN Certification
EP057.2012
GMD
Steerable Rogallo
39
16
2.900
5950
33.0x24.0x15.5
2.8 m/s@(90kg)
3.2m/s@(130Kg)
60-130
22.31
EN Certification
EP009.2007
MD Bi
Round Tandem Reserve
47
18
3.250
6100
33.5x27.0x13.5
5.4
200
16.25
AFNOR
PS98228AP
MD 28UL
High Capacity Round Reserve for Trikes
64
28
4.000
12600
37.0x23.0x20.0
6.3
340
11.76
EN Load test
12491:2001
Packed Size vs. Volume:
The volume is measured by water displacement, and represents the smallest recommended packed volume, or the volume of the smallest recommended container to be used for the reserve. The specified volume is therefore far lower than the calculated volume that would be derived from the specified measurements.
The Packed Size measurement represents the measurements of the factory packed, but not compressed reserve, ie. the max dimension for each axis, and in its specified deployment bag, as shipped from apco.
* Weight Excludes weight of long bridle on Hang-glider version.
Add 550gr for bridle
** Sink Rate as measured by Air Turquoise test laboratory
Stability rating by Air Turquoise (1 bad - 5 excellent)
*** Gram per Kilo Load
This is a unit that makes it easy to compare Reserves.
The unit is calculated by dividing the weight of the reserve, by its max load rating. The lower the number, the lighter the reserve is for its carrying capacity.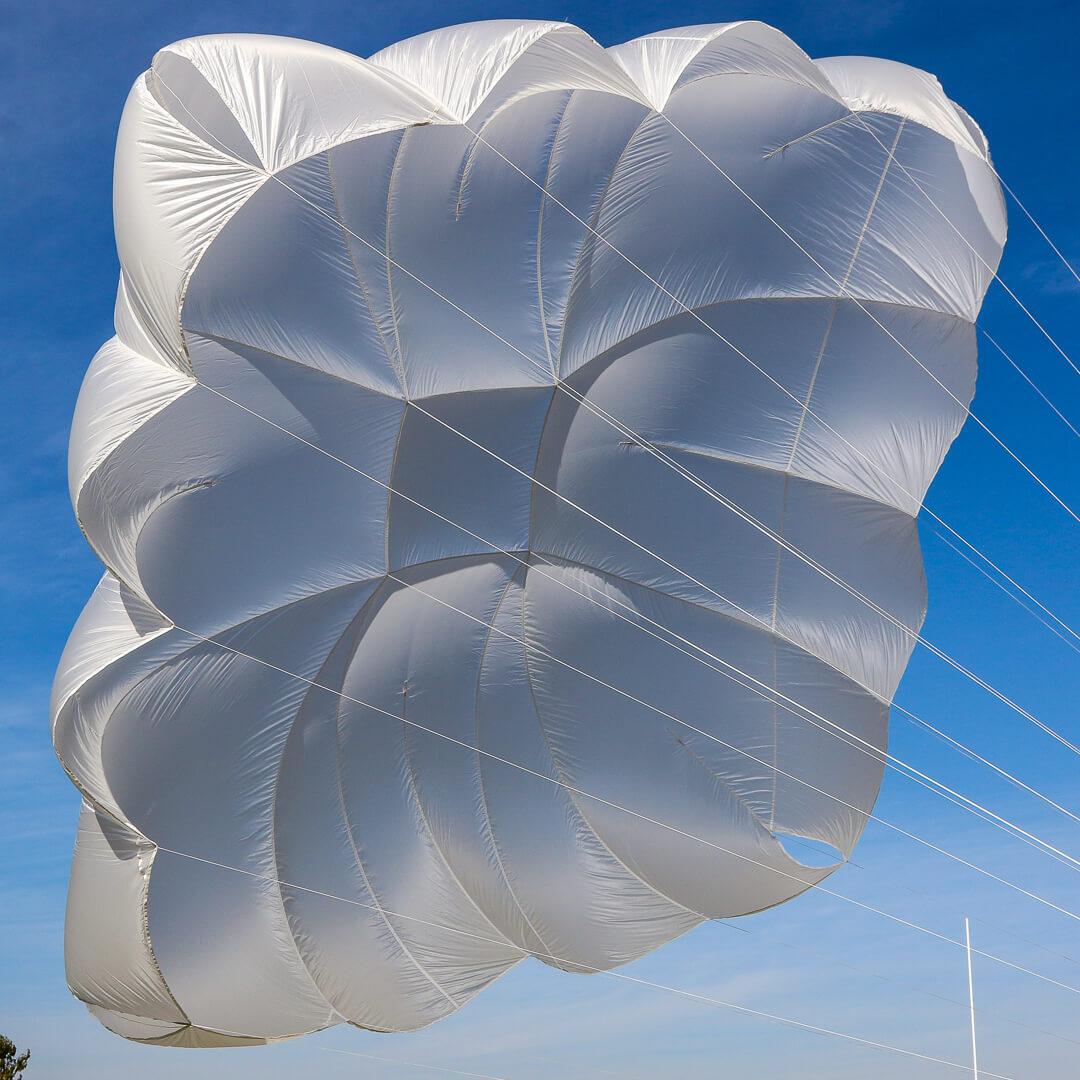 42485: MayDay Presentation Bag
Each MayDay reserve parachute will be supplied in the new "Presentation gift bag" external package. This is a small aesthetic upgrade, a nice addition and gift for the pilot.
Use this bag for your instruments, shoes, as a shower bag, as a lunch box, or whatever you like and be reassured your life is in good hands.
Mayday Prices remain unchanged 😉
FEATURES
Looks great
Extremely useful
Made from light materials
Detachable carry-strap, can also be used to buckle up folded wing.
Designated, clear-cover slot for owner's details card.
Owner's details card included. Just fill up and slide in.