Re-designed from the ground up, this conservative tapered planform wing, the Cruiser – combines the advantages of both worlds, offering the perfect blend of enhanced performance, speed and handling, with ease of use, extreme safety and user friendly nature of our well known veteran PW and Hybrid. It is an easy wing to fly, suitable for students as well as experienced pilots, with significantly faster trim speed and superior glide (L/D). Since its launch the Cruiser has proved to be #1 choice of PPC wing for both students and intermediate pilots worldwide. Every pilot that transitions to the Cruiser from a rectangular chute is overwhelmed with excitement!
The wing, its performance, safety and pilot friendly nature on the ground and in the air is praised and appreciated by all.
DESIGN FEATURES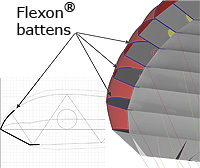 Reinforced heavy-duty design for extended life span and heavier loads
Advanced conceptual philosophy
All metal parts: Stainless Steel or Aluminum
APCO legendary standard double coated siliconised cloth – built to last
Heavy-duty Superaramide® lines
innovative tapered planform
Flexon® battens system for ultimate durability and spotless launch- pioneered by APCO
BT2 – The Cruiser was updated in January 2019 with BT2 (Butt Holes 2) for auto clearing of debris accumulating inside the wing
NARROW ATTACHMENT VERSION
Originally only available in a standard (wide) attachment point version (55-63 inch / 140-160 cm spread), and many pilots with the Narrow attachment points were left wanting.
Following numerous requests, the cruiser is available in a narrow attachment point version (43 inch / 110 cm spread).
No retrofitting needed, you can use any narrow attachment Trike / Frame with this version and enjoy the same performance as already proven on the standard Cruiser.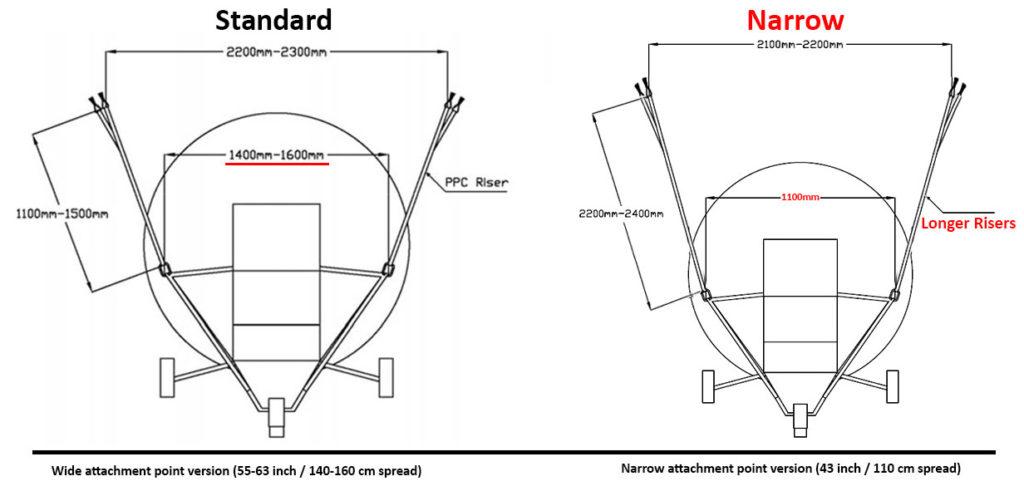 Download Technical Drawings here:  Wide Version, Narrow Version