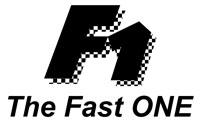 "I am not designed to finish 2nd or 3rd… I am designed to win"
– Ayrton Senna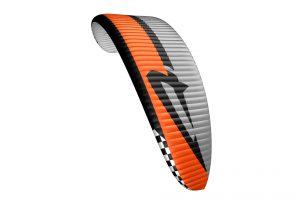 The Fast One :: F1 – the pinnacle of achievement in technology, performance and feel. A precision tool that in the right hands will produce incomparable results. Our objectives were to produce the best performing high end cross country wing on the market. Safety was the first priority which framed all other parameters and we are extremely proud of the final result.
The F1 is in a class of its own! A cross country wing, intended for classic competitions – a fast, efficient flying machine, but yet as agile as a slalom wing when you want to play. Combining high aspect ratio with a full reflex profile results in performance and efficiency which are packaged into a very user friendly, coherent product that will take any experienced pilot to the next level!
Incorporated into the F1 is our Flow Aligned Ribs (FAR) feature, morphing direction from center to tip, it aligns the ribs with the natural direction of the flow, increasing both performance and stability throughout the speed range. The roll stability of the F1 is especially impressive, allowing for agile, precise handling.
The canopy incorporates 2 functional "3D cuts" for the best possible leading edge shape definition.
The canopy sail tension has been optimized to be a homogeneous unit, solid and reassuring in flight.
The riser / speed system / trim system was re-designed to incorporate all of Apco's groundbreaking technologies, and has a greater usable range than any wing we have built before. The extensive speed range means you can launch and land at reasonable speeds, but can accelerate (speeds of up to 80 [km/hour]) with comfort during competition, or on the perfect long distance XC flight you've been dreaming about – but, be warned, unless your mates are on the F1 too, you will be flying alone!
With the trimmers closed, the F1 will thermal well, and has exceptional glide ratio (for a full reflex profile wing), so if you like to mix it up on a good day, idle or cut the motor and crank it up to cloudbase with ease.
Open the trimmers and enjoy a significant speed increase of approx. 15 [km/h] (without the use of the speed bar).
Choose the speed bar and the OAA system will allow you to accelerate to the maximum in one swift motion!
Construction – weight was saved wherever possible, bringing the weight down to as low as 4 [kg] while retaining APCO's legendary durability. The low canopy mass, allowing surprisingly easy inflation, especially in nil wind take-offs.
Positioned as the top performing wing in our range, it will satisfy any experienced pilot who can settle for nothing but the best!
| F1 / Size | 18 | 20 | 22 |
| --- | --- | --- | --- |
| Code | 22818 | 22820 | 22822 |
| Cells | 64 | 64 | 64 |
| Area [m2] | 18 | 20 | 22.0 |
| Area (projected) [m2] | 15.26 | 16.95 | 18.65 |
| Span(incl. Stabiliser) [m] | 10.90 | 11.49 | 12.05 |
| Span (projected) [m] | 8.64 | 9.10 | 9.55 |
| Aspect Ratio | 6.6 | 6.6 | 6.6 |
| Aspect Ratio (projected) | 4.6 | 4.6 | 4.6 |
| Weight Range (all up) Paramotor [kg] | 70-100 | 70-120 | 70-140 |
| Weight Range (all up) ParaTrike [kg] | 70-120 | 70-140 | 70-165 |
| Canopy Weight [kg] | 3.9* | 4.2* | 4.6 |
| Root Cord m | 1.92 | 2.02 | 2.21 |
| Tip Chord [m] | 0.12 | 0.13 | 0.14 |
| Length of Lines on B [m] | 6.59 | 6.95 | 7.29 |
| Total Length of Lines [m] | 334 | 352 | 370 |
V-min [km/h] at optimal wing loading
27
V-trim (closed) [km/h]
38 - 42
V-trim (neutral) [km/h]
45 - 49
V-trim (open) [km/h]
55 - 59
V-max [km/h] at optimal wing loading
80
Min Sink [m/s] at optimal wing loading
1.2 m/sec
All Data measured at sea level, using a combination of GPS and Speed Probe, averaged over several runs.
APCO is traditionally known for using materials and building techniques which offer double and triple lifespan over the expected. The glider is made from tear resistant Ripstop Nylon cloth, which is P.U. coated to zero porosity and then siliconized to give the fabric high resistance to the elements. Different cloth is used for the top, bottom and ribs due to their different functions.
The F1 wing uses the same long lasting cloth as on previous APCO wings. This is to guarantee its integrity for entire expanded lifespan of the wing. Nevertheless we significantly reduced the weight of the wing thanks to advanced solutions applied, without compromising on any of APCO's legendary durability.
The top surface utilizes our double siliconized cloth  – top front is critical area in terms of porosity as this is where most of the lift is generated.
The bottom surface has been upgraded to a lightweight 27 gr. material with an advanced ripstop arrangement which saves additional weight.
The ribs are separated into supported and unsupported ribs, with lightweight material on unsupported ribs for additional weight saving.
The lines are a mix of different materials in different positions, to optimize to the fullest the diameter/strength according to the required load.
The top lines are our life-time warranted embedded hook in points made from Dyneema fiber.
Middle floor is unsheathed Vectran for reducing drag.
Bottom floor is made of unsheathed lines for further reduction in drag. Material used is Kevlar for its stability and resistance to elastic changes in length.
The bottom section of the brake lines is made of Polyester because of its better mechanical properties. The Karabiners that attach the lines to the risers are made of stainless steel.
| | Material | Weave | Diameter [mm] | Strength [kg] |
| --- | --- | --- | --- | --- |
| Top | Dyneema | Unsheathed | 1.0 | 90 |
| Mid (a1:b1:c1:d1) | Vectran | Unsheathed | 1.0 | 153 |
| Mid (**Brake;a3,5;b3,5;c;d) | Vectran | Unsheathed | 0.9 | 115 |
| Bottom (A3,5;B3,5) | Super Aramid | Unsheathed | 1.4 | 254 |
| Bottom (A1;B1) | Super Aramid | Unsheathed | 1.6 | 325 |
| Bottom (C; D; St) | Superaramide | Unsheathed | 1.0 | 137 |
| Brake Cascades; St top | Vectran | Unsheathed | 0.6 | 50 |
| Steering Line | Polyester | Sheathed | 2.0 | 90 |
| | |
| --- | --- |
| Sail Cloth: Top | 42 gr/m2 "Zero Porosity" Ripstop Nylon |
| Sail Cloth: Bottom | 27 gr/m2 "Zero Porosity" Ripstop Nylon |
| Rib Reinforcement | FLEXON® batten system |
| Warranty | 3 years / 250 Hours |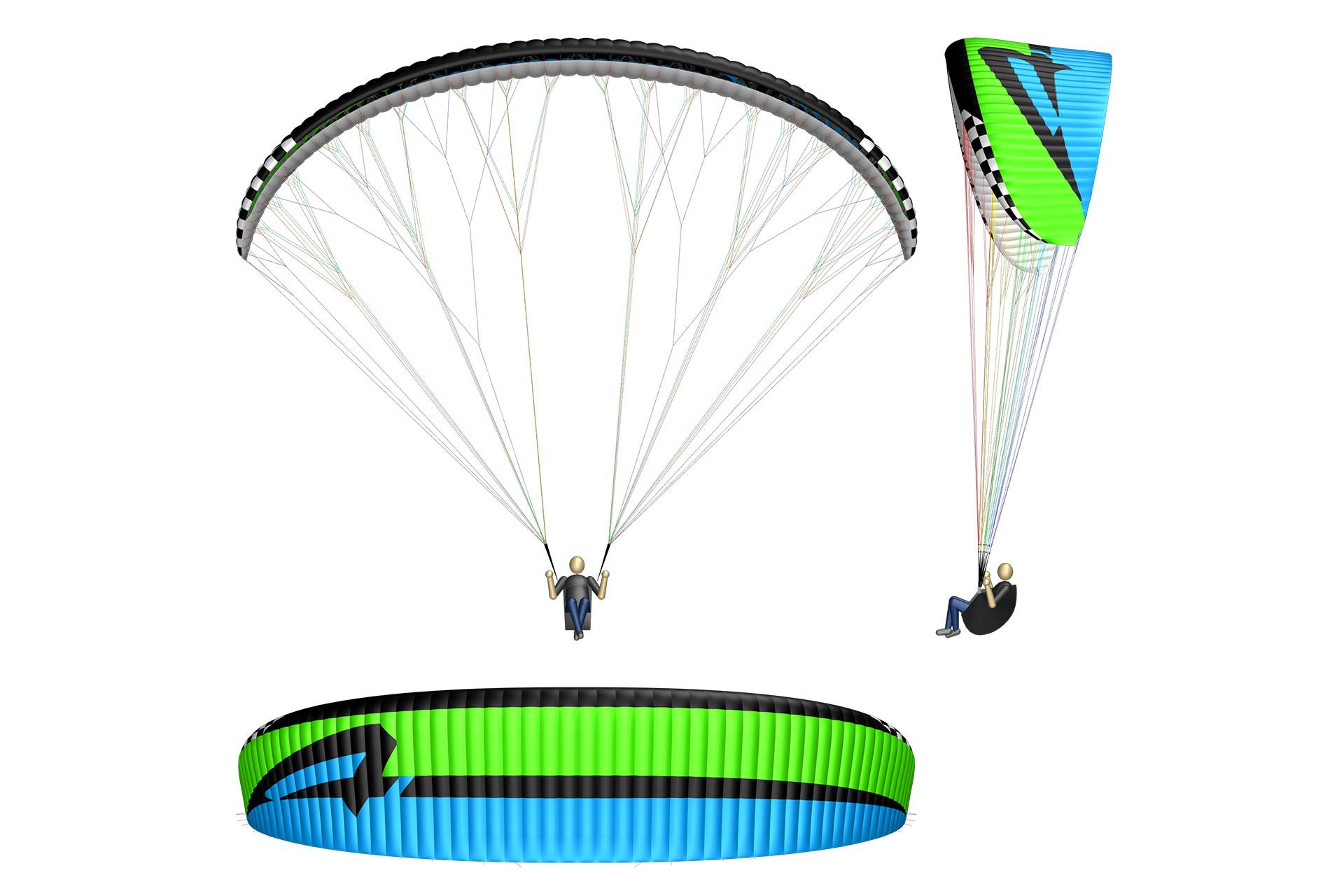 Warranty, stickers, and repair kit
Wing Suitability
Wing Use Chart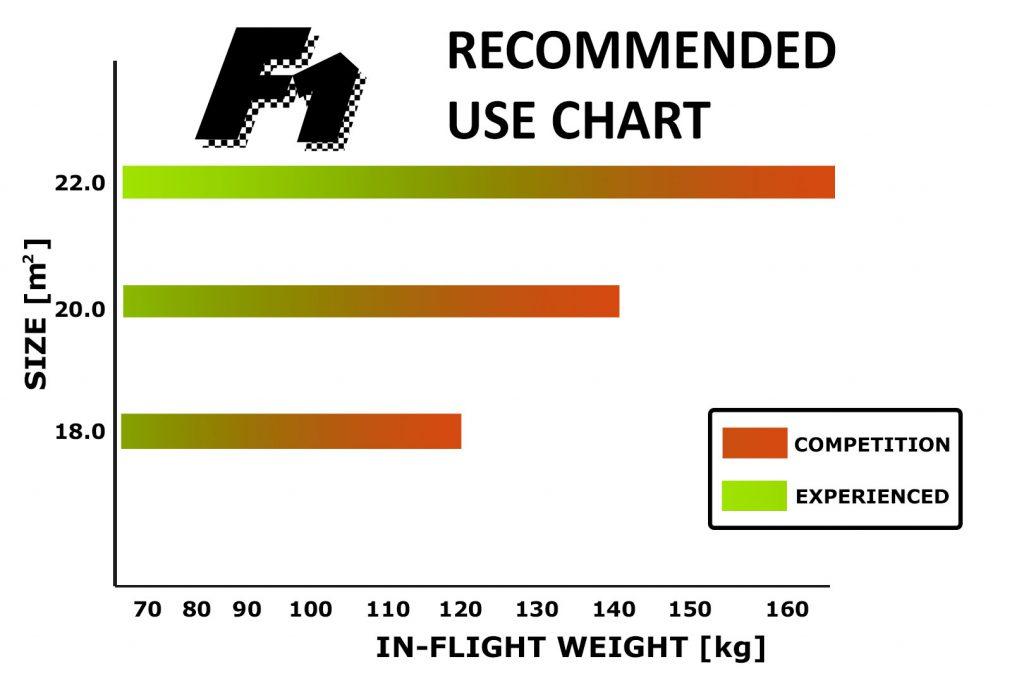 Characteristics
TAKE OFF

Slower speed than you would expect for such a wing. Best results will be achieved with trimmers fully closed. All thanks to new highly efficient reflex profile.

LANDING

Approaches and flares like a competition class paraglider. With a highly efficient flare, that allows for gradual squeezing of all the speed/kinetic energy down to a soft landing.

HANDLING

Accurate and extremely agile, with 2D Steering and Tip Steering, with great roll stability / self levelling at high speed!

PERFORMANCE

High aspect ratio, high performance design with the highest, safe, speed increase from opening the trimmers.
The F1 is the weapon of choice for the XC / competition Warriors.

PILOT FEEDBACK

"I've flown them all, and this wing, beats them all, in every aspect…
I could not stop smiling, and didn't want to land nor return the prototype I had the opportunity to test fly…
Order for mine is in…"

Beny Perez

CONSTRUCTION

LIGHT – big weight saving choosing lighter materials for the bottom surface and ribs. Top surface incorporates our legendary double siliconized cloth for maximum durability.

F1

The APCO F1 is the ultimate Speed Machine, designed for competition,
but will be enjoyed by all experienced pilots who wish to fly the best.
Features
Certification
Documentation
Frequently Asked Questions
What are the differences between the F1, Force and NRG series?
The F1 is in a class of its own, designed around performance (both speed and efficiency), however, no compromises were made. Intended for experienced pilots, it is above the Force in all aspects and accordingly the necessary level of piloting. The NRG is a more playful wing designed for speed and energetic flying, but much less efficient than the F1.
Risers:
The risers have been redesigned to specifically match the chord and profile of the F1. This has allowed to dramatically increase the overall speed range, and especially the range on the trimmers.
The ABS was excluded, as the wing is naturally stable in design, throughout the speed range.
Due to the light materials and advanced profile and design, the launch was so good, that the SRS was not necessary on the risers.
Wing:
Higher aspect ratio than both NRG and Force – gives great safe performance.
The inclusion of APCO's unique Flow Aligned Ribs (FAR – not existing on Force II and NRG) improve roll stability, safety and overall very homogeneous rigid canopy. Perfect sail tension on a balanced planform – further improving cohesion and rigidity of the canopy.
OAA - what trimmer settings should I use?
From the Manual "In order to engage the OAA one must detach the brummel hooks connected to the rear risers below the trimmers. Prior to using the speed system one must move the trimmers to the neutral position (all risers level). To disengage the OAA one must reattach the brummel hooks on the rear riser. When operating the speed system with the OAA disengaged one must release the trimmers open before activating the speed system."
Basically when using OAA the trimmers should be at zero position and not opened completely.
The OAA brummel hooks can be managed in the air, just recommended not to adjust close the ground – pay attention that you have enough altitude (to avoid obstacles and have the time to react for engine failure etc.)
Pilot Comment :: F1 :: Charles Terrell
I have flown APCO since after leaving PM school. I had the Lift, force 2 and NRG XC. I recently tried the F1 and let me tell you, it's something else. Faster than the NRG XC, specially on trimmers alone. But my biggest surprise was efficiency. I need less power to fly the F1 level than I need for the intermediate force 2, despite being from 10 to 20 kph faster! Takeoff and landings require skills (fast runs and precise flare required) but if you are a skilled pilot you can nail a standstill landing even at max recommended weight.
Review :: F1 :: XC Mag (English)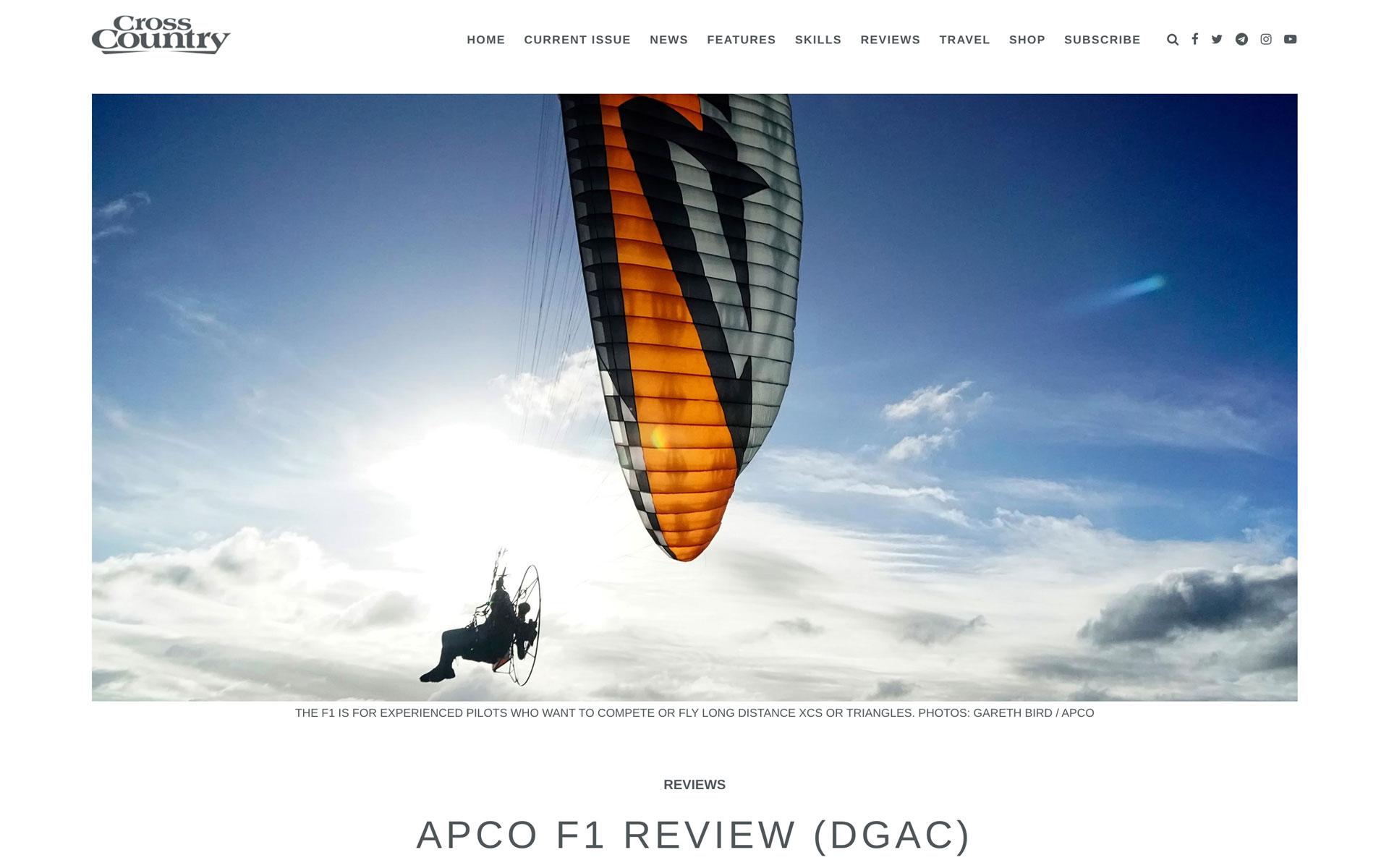 Apco have named this glider the Fast One, so like most paramotor pilots would be, I was pretty keen to try the glider and see if it lives up to the name as I'm a sucker for faster gliders.
After talking to the designer, Adam Wechsler, briefly last year in September at the Coupe Icare in France, it was clear that…
Read the Full Review
Review :: F1 :: Thermic Magazine (German)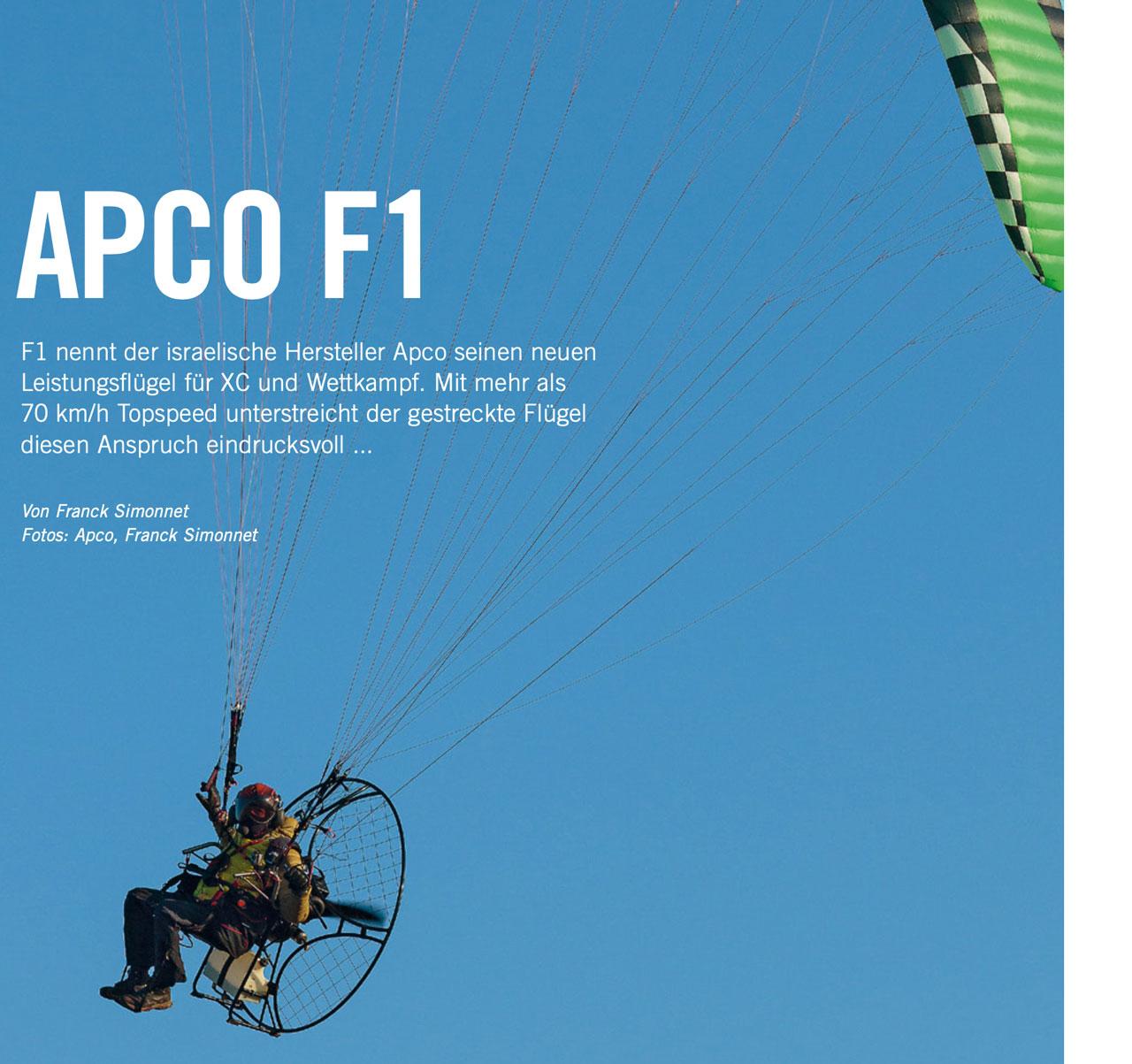 F1 nennt der israelische Hersteller Apco seinen neuen Leistungsflügel für XC und Wettkampf. Mit mehr als 70 km/h Topspeed unterstreicht der gestreckte Flügel diesen Anspruch eindrucksvoll …
Von: Franck Simonnet
Read More
Pilot Review :: F1 :: Marlon Jonat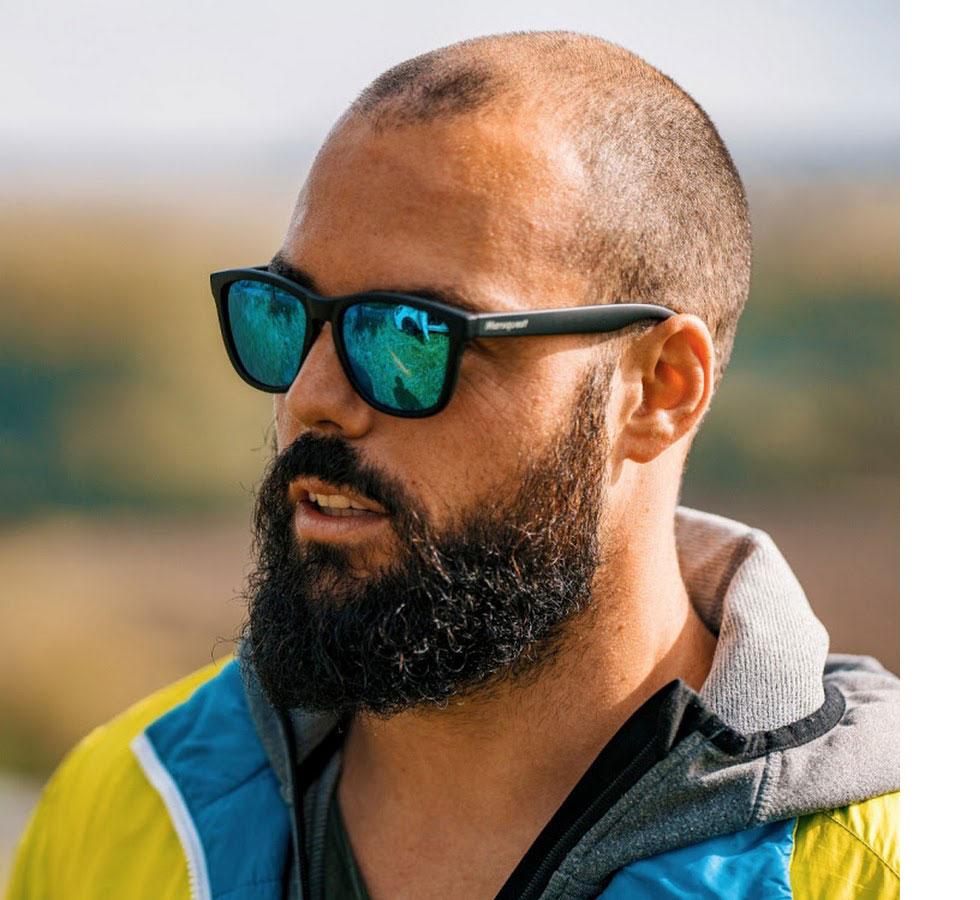 Hi Jonathan,
I now have about 10 hours of flying the APCO F1 with the motor and I am really impressed! I also took many videos of it and I tested nearly every maneuver, spiral, wingover, barrelroll, sat, stall, collapse and accelerated collapses. The wing is just amazing and I really like it! It is my number one "go to" wing when I fly with motor just for fun! I hope I can edit some videos in the next weeks and month, but I have pretty much to do right know. I am just building a house and I cant say for sure when I will finish the video. I hope I can tell good news very soon!
Best regards,
Marlon
F1 :: Pilot Comment :: Tero Vesala
… avoid all physical contact.
A positive thing though is that the F1 truly is a magnificent piece of equipment. You have really accomplished something remarkable with it. It does…


read more
F1 Review :: PM+ Magazine :: by Franck Simonnet
La F1 se veut être la vitrine du savoir-faire d'Apco. Par rapport aux autres ailes du constructeur israélien, la F1 se place en haut du panier, au-dessus des mo- dèles NGR PRO et XC. Elle est encore plus orientée…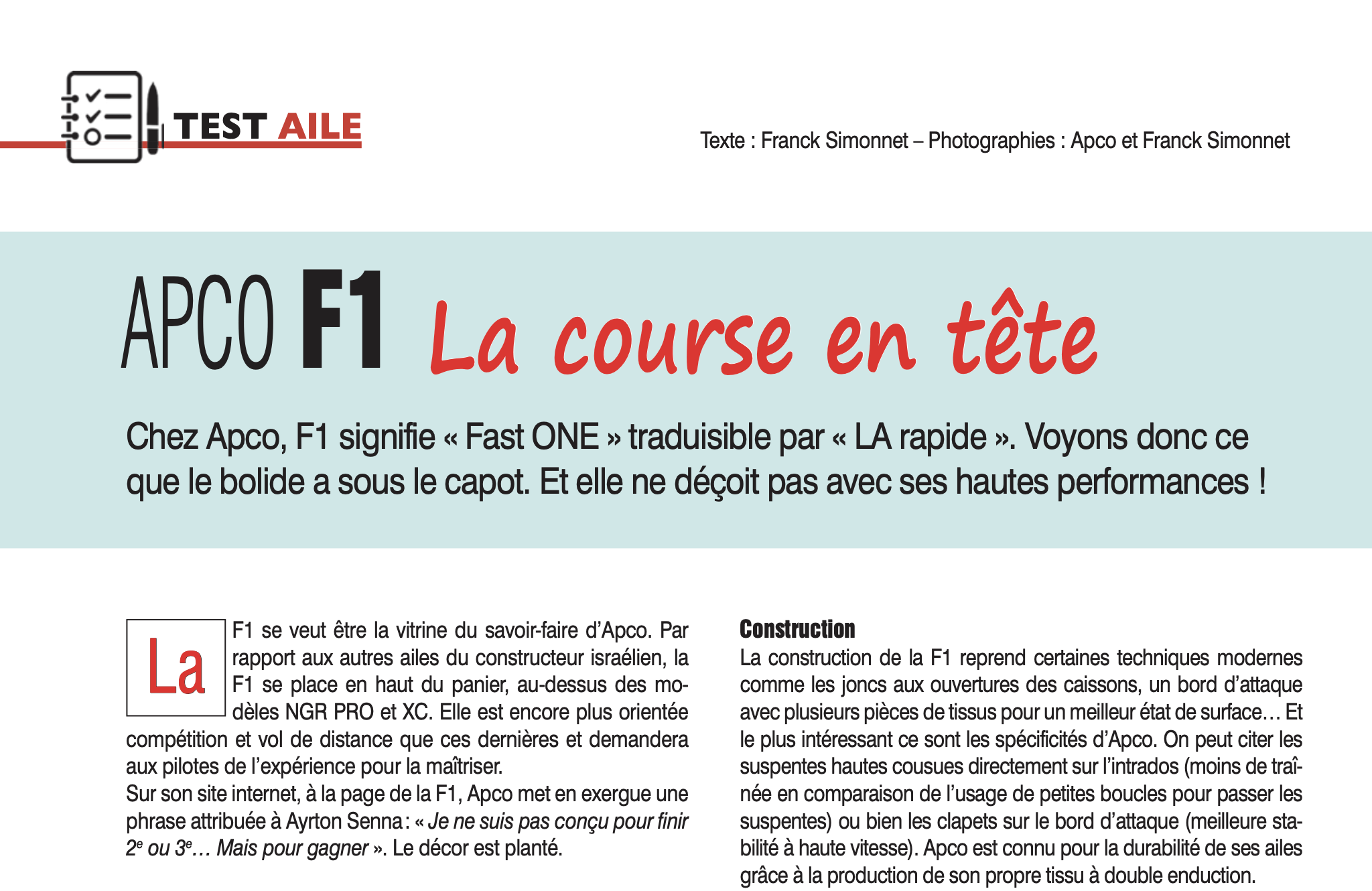 read more