Karma Evo Paramotor
A new Beginning
EN Class A - Beginner
Manuals
Characteristics
TAKE OFF

effortless and intuitive. The 3 leg riser dramatically simplifies things for the beginner. Front launch or reverse is always easy with the APP profile (shark nose), The wing will rise slowly and controllably overhead allowing time to glance up and safely take-off.

LANDING

Landing is a breeze as the KARISMA is incredibly stall resistant and flaring will slow you down almost to a standstill!

THERMALLING

the glider will bank into a coordinated turn and pull itself into the core almost automatically. This is by far our best thermalling EN A wing ever and this will be evident when students attempt their first cross country flights, encouraging them to progress and evolve in the sport to the next level.

PERFORMANCE

Glide at trim speed is among the best in its class, but the real advantage is when applying the speed system. Through its entire acceleration range, KARISMA will efficiently cut through the air with minimal sink rate. Adding both performance and another level of safety for EN A wings.

PILOT FEEDBACK

simple to understand is how to summarize the KARISMA. The wing is both reassuring and precise in its pilot feedback. It is a forgiving wing for beginners, and when directed correctly, it will immediately respond without hesitation.

CONSTRUCTION

According to Apco's legendary tradition for durability – the construction of the wing is bullet proof! Extremely durable cloth combined with proven construction designed to withstand students abuse for as long as necessary.

Vista IV

Vista 4 is fun to fly and will excite its pilots even for long cross country flights. Great and secure glider at the same time to enjoy hours after hours.
Features
Certification
| Size | Certification Type |
| --- | --- |
| XS | Pending |
| S | EN-A |
| M | EN-A |
| L | EN-A |
| Paramotor | Load Test- 172 Kg Max load |
Reviews
Just another review without image.
Surfer Magazine
Great new way to ride your wave.
As it's name suggests, the KARMA EVO Paramotor is the Evolution of the legendary Karma. It possesses all the Karma virtues but has been redesigned from the ground up, to be a worthy addition to APCO's range of all round beginner wings.
Constructed with the students in mind, and instructors feedback – it is super easy glider to fly – Simple and straight forward.
A hybrid 3 line construction that converges into a clean and simple 3 leg riser making inflation and ground handling a breeze – no messy risers and lines tangled in reverse launch anymore. Accelerated learning curve for the student, getting him into the air and flying safely faster than before.
Flying characteristics are delightful. It is a true EN-A. Simple to understand and pleasure to handle. Glide is among the best in it's class.
According to Apco's legendary tradition for durability – the construction of the wing is bullet proof! The best and extremely durable cloth combined with proven construction designed to withstand the students abuse for as long as necessary.
Karma EVO is fun to fly and will excite long after out of school.
The KARMA EVO, we feel, is the best beginner glider today for students and new pilots, as well as instructors and we are sure you will find it to be the best choice for you too.
The wing was designed bearing paramotor pilots in mind and thoroughly tested under power. Equally well suited for paramotor, making it a great wing for engine lovers. The KARMA EVO overall behavior is perfectly tuned for motorized flight. From easy nil wind inflation and short take-offs to exceptional stability, with high fuel efficiency. The KARMA EVO offers the ideal solution for paramotor schools and pilots who choose non-reflex wing. (Supplied with purpose built paramotor risers when specified)

The Vista 4 is dressed with a new color design, created by Kobi Gurevich – award winning graphic designer who won our color design competition.
| | X-Small | Small | Medium | Large |
| --- | --- | --- | --- | --- |
| Cells | 38 | 40 | 40 | 42 |
| Area [m2] | 24.55 | 26.3 | 28.5 | 30.4 |
| Area (projected) [m2] | 20.85 | 22.55 | 24.4 | 26.2 |
| Span(incl. Stabiliser) [m] | 10.7 | 11.35 | 11.8 | 12.5 |
| Span (projected) [m] | 8.56 | 9.08 | 9.45 | 10 |
| Aspect Ratio | 4.66 | 4.9 | 4.9 | 5.13 |
| Aspect Ratio (projected) | 3.47 | 3.65 | 3.65 | 3.81 |
| Pilot Weight (all up) free flight [kg] | 55-80 | 70-95 | 85-110 | 105-130 |
| Pilot Weight (all up + paramotor unit) [kg] | 70-95 | 85-110 | 90-135 | 120-145 |
| Canopy Weight [kg] | 4.5 | 4.9 | 5.3 | 5.7 |
| Root Cord m | 2.81 | 2.81 | 2.93 | 2.93 |
| Tip Chord [m] | 0.70 | 0.70 | 0.73 | 0.73 |
| Length of Lines on B [m] | 6.3 | 6.7 | 7.0 | 7.4 |
| Total Length of Lines [m] | 241 | 254 | 286 | 300 |
| V-min [km/h] | 21 |
| --- | --- |
| V-trim [km/h] | 37 |
| V-max [km/h] | 47 |
| Min Sink [m/s] at optimal wing loading | 1.1 |
The glider is made from tear resistant Ripstop Nylon cloth, which is P.U. coated to zero porosity and then siliconized to give the fabric high resistance to the elements. Different cloth is used for the top, bottom and ribs due to their different functions.
The lines are made of superaramid covered with a polyester sheath for protection against UV, wear and abrasion. The bottom section of the brake lines is made of Polyester because of its better mechanical properties. The Karabiners/rectangular loops that attach the lines to the risers are made of stainless steel.
| | Material | Diameter [mm] | Strength [kg] |
| --- | --- | --- | --- |
| Top, Br Top, St Top | Dyneema | 1.1 | 90 |
| Mid, St | Super Aramid | 1.2 | 120 |
| Bottom A1;B1; C | Super Aramid | 1.9 | 320 |
| Bottom A3; A5; B3; B5 | Super Aramid | 1.8 | 230 |
| Steering Line | Polyester | 2.0 | 85 |
| | |
| --- | --- |
| Sail Cloth | 42 gr/m2 "Zero Porosity" Ripstop Nylon |
| Rib Reinforcement | FLEXON® batten system |
| Warranty | 3 years / 250 Hours |
Frequently Asked Questions
Custom Logo Design
It is available on Vista IV, please contact us for more information.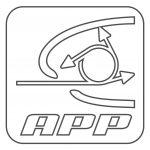 Automatic Pressurising Profile
The wing uses a new generation of aerodynamic profile (APP) which has the in take located further back on the bottom surface of the wing, and not at the front stagnation point.
The in take directed primarily against the direction of flow on the bottom surface of the wing. This technology results in an increase in internal pressure as the flow velocity is increased, regardless of the position of the front stagnation point.
Meaning that as the angle of attack decreases the flow velocity is increased as well as internal pressure of the wing (Contrary to the "classic" profile).
All of the above is reflected in a wing which is exceptionally stable when accelerated.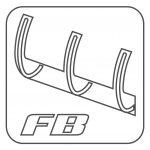 Flexon Batten
New generation FLEXON® batten system incorporated for the leading edge of the ribs, insuring perfect profile shape instead of traditional Mylar reinforcement. FLEXON ® battens reduce the weight of the glider by an additional 500gr without any sign of deterioration during the life span of the glider.
Additional advantage of Apco's FLEXON batten is that it is practically indestructable.
With Apco's FLEXON batten there is no need for special care or folding methods. They always come back to their original shape, safeguarding the performance and launch over the lifespan of the glider
We guess you noted that recently quite a few respected paragliding brands have borrowed the Flexon batten system for their products and claim to be the innovators, branding the system with fancy names.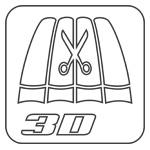 3D Cut
3D cut is a special additional cut. Inserted into the leading edge of the wing, it results in a cleaner, more aerodynamic shape to the leading edge, in the inflated shape during flight.
Paragliders are made by multiple parts which are cut as 2 dimensional flat pieces of fabric.
Imagine trying to fold a straight long piece of paper into the shape of a panel, specifically in the leading edge part. You will discover that in order to receive the curvature needed on the center of the "panel" excess material will be left on the edges which are typically sewn to the ribs.
A 3D cut allows to trim out this excess material, resulting in a cleaner, less wrinkled profile.
In other words the connected panel through a 3D cut can no longer lay flat as a 2D piece of fabric, but is perfect as a curved 3 dimensional shape!
Magnetic Attachment Grid
In continuous desire to improve our products, we constantly work on design and performance, but do not neglect the small details either.
Our traditional arrangement for magnet placement on brake handles and risers of paraglider replaced by a new design where special plastic casing keeps the magnet in place. The new magnet casing is incorporated into our complete range.
The magnet surface in this casing is exposed, creating much stronger magnetic force, which in turn firmly secures the brake handles etc. in place.
The casing interlocks securely eliminating the possibility of accidental sliding between 2 magnets.
Embedded Hook-In Points
A typical glider has around 100 hook-in points, where the lines connect to its bottom surface. Each hook-in point creates a large amount of drag.
For many years APCO has been using its innovative EHP technology to reduce glider drag and improve performance.
Embedding top lines directly into the bottom surface of the glider, (using APCO's EHP technology) will significantly reduce drag on each hook-in point to the absolute minimum.
Multiplying this drag reduction over 100 line connection points results in a big performance gain.
The improvement in performance is free of any side effects and is a very efficient way to gain on L/D without sacrificing safety or handling.
Traditional hook-in points are bulky tape loops with knots around them. They act as a forest of disturbances to the airflow under the wing, each creating turbulence around itself, contributing to a thicker turbulent boundary layer at the wing's surface and greater drag.
Standard Hook – Ins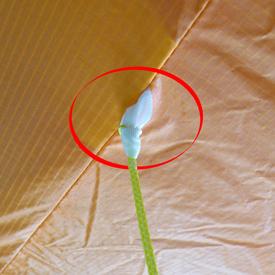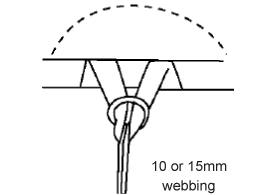 Embedded Hook Ins
Embedded hook-in points offer a much cleaner interface, resulting in a thinner boundary layer and less drag. They are the most aerodynamically efficient way to connect lines to a glider. Considering that a glider has so many of them, reducing drag on each hook-in point results in dramatic performance gains. Even better, embedded hook-in points are maintenance-free and carry a lifetime warranty.