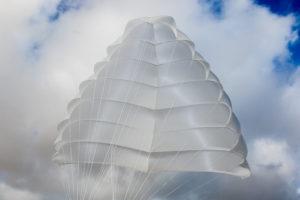 The latest addition to our world famous range of Mayday emergency parachutes – Guided Mayday (G-MD).
G-MD is specially designed to enhance our range and cover market segment which requires an advanced solution in more difficult cases of flight emergency.
The sophisticated, Rogallo type, steerable gliding emergency parachute is now available, after being fully certified by CEN to the new EN norm and approved for up to 130kg.
It is designed for the most discriminating pilot, allowing for maximum control over events in case of emergency (glider failure etc.).
G-MD mainly targets pilot segment specialising in high risk applications – ACRO, industry professionals and competition pilots, but is equally appealing to the general pilot market. G-MD deployment sequence designed to function with or without cut-off system for the main wing. Accordingly it is also attractive to weekend pilots thanks to the simplicity of use, combined with advantages offered by steerable gliding rescue system.
Features
Glides with L/D of ~1.5 – instead of high sink rate vertical descent
Fully steerable – in same fashion as paraglider, allows for choice of landing places
Very low sink rate
High deployment reliability
Ultra fast opening with low deployment shock
Good flaring capacity on landing
Exclusive to APCO – Competitive pricing
Comes complete with brake handles and bridle/riser