Apco Aviation started manufacturing the Mayday in 1984, and since then put over 30 000 pieces into service in the Paragliding and Hang Gliding markets. The Mayday has hundreds of life saving deployments to its name, from beginners to world champions ( Read letters from saved pilots).
The Mayday is availabe in four sizes, all available with a short or long bridle, for paragliding or hang gliding. Apco also manufactures a wide range of accessories for the Mayday range. This includes front and side mounted external containers for paragliding as well as external containers for hang gliding, split bridles, long bridle extensions, UV-sleeves and much more.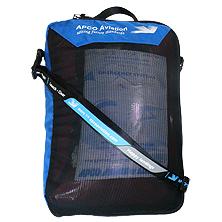 MayDay Presentation Bag
Each MayDay reserve parachute will be supplied in the new "Presentation gift bag" external package. This is a small aesthetic upgrade, a nice addition and gift for the pilot.