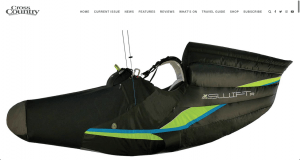 The Apco SWIFT Harness was Reviewed by XC Magazine.
"We both found the comfort in flight is superb. Lumbar support is fantastic with a nice solid-feeling back support with no pinch points or creases. The mark of a good harness design is when there's absolutely zero pressure or pull down on the shoulders and the Swift definitely ticks this box. If anything, I found the Swift a smidge more comfortable than the X-R7. There's more length to play with on the straps too: at 181cm I'm close to the top of the X-R7 L, but in the middle of the Swift's sizing range. Four hours into a six-hour flight…"
The Full Review is available here on the XC Mag Website.