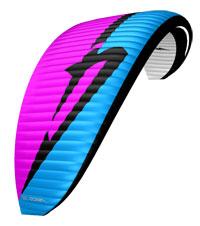 Back in 2014, when Vista III was first introduced, it was a ground breaking wing. An EN B certified true 3 liner (top to bottom), shark nose wing that performs and feels like a well tuned racing car which excels in strong conditions ! It has set a standard for many other competitor models which came after.
Vista IV – exciting sport class EN B wing with fully sheathed lines and APCO's time proven double siliconised Gelvenor fabric.
The new Vista IV is based on the platform of Vista III and improved on several key points:
3D leading edge cut smartly incorporated into the color design – it allows for a cleaner leading edge, improved top surface layout and tension for better performance.
Risers- Perfect 12 [mm] webbing risers with incredible attention to details. They are super-lightweight at less than 99 gr! Incorporating a unique A5, C5 (Split A, C) line connection method with no Karabiners! Making it cleaner, safer, lighter – smart and elegant.
Specifically designed ball bearing pulleys allow for the smoothest speed system operation possible.