Lift EZ
The name says it All
DGAC
Wing Suitability
Characteristics
TAKE OFF

One of the best attributes of the LIFT EZ is its launch.The reflex profile helps the wing to rise  up directly overhead, with no over shooting. Take-off speed is lowest there is for a full reflex wing, for a short and effortless run.

LANDING

Close the trimmers and enjoy a slow approach with a highly effective flare.
This wing will remove the fear of encountering the ground which beginners often feel.
Brake travel is long and progressive, forgiving of beginner mistakes.

PERFORMANCE

The improved reflex profile compared to original LIFT allows for improved fuel consumption and flatter glider angle when approaching for landing.

HANDLING

Take-Off >> place the main handles in the magnets >> take the tip steering and enjoy an agile, relaxed and safe wing with effortless, low brake pressure and handling.

PILOT FEEDBACK

The perfect reflex wing for beginner/intermediate pilots. Instructors that teach paramotor to new pilots are enthusiastic about the ease of use and the pilots progress with this wing long after completing training!

CONSTRUCTION

According to Apco's legendary tradition for durability – the construction of the wing is bullet proof! Extremely durable cloth combined with proven construction designed to withstand the harshest conditions for as long as necessary.

LIFT EZ

The name says it all. A full reflex wing with all the advantages of speed and safety, designed to be as simple and straightforward as possible.
Features
Certification
Manual
Reviews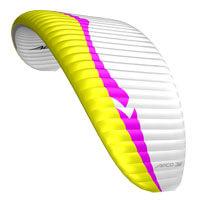 The LIFT EZ is born.
A perfect wing which is even better and easier to fly than any wing you knew before.
The LIFT EZ is a completely new design that aims to fulfill the expectations of the most discriminating pilots. Different designs were tested during development to assess the best option.
Without regard to paraglider type: conventional, shark nose or reflex, we wanted the best.
And the winner is…….
The LIFT EZ based on our new reflex profile!
This design emerged superior to rest of the designs, including the prototype based on the latest generation "sharknose" profile.
Perhaps you were expecting the recent trend sharknose profile to win, but it was not the case. Our Reflex was the best!
The new wing has turned out to be a great all round paramotor wing – named LIFT EZ . (EZ is for "EASY" – Just because flying it is so damn easy!!) The LIFT EZ continues the legacy of LIFT – similar feel, trim speed and speed range, but there is difference.
significantly shorter take-off run
much slower take off speed
slower and flatter landing approach
better glide and lower fuel consumption
lighter, more coordinated handling
flatter turning, more agile wing
The LIFT EZ features the new, innovative tip steering system – "Wind Scoop System" or WSS ® dramatically improving handling of the wing and its turning ability
We believe we achieved the goal, creating the easiest to fly paramotor glider, without compromise!
LIFT EZ
(2EZ & EZ-R)
Small
Medium
Large
Cells
42
44
46
Area [m2]
25.8
27.5
29.2
Area (projected) [m2]
22.3
23.5
25.1
Span [m]
11.22
11.84
12.46
Span (projected) [m]
9.15
9.65
10.17
Aspect Ratio
4.9
5.1
5.32
Aspect Ratio (projected)
3.8
4
4.2
Pilot Weight (all up) free flight [kg]
70-100
85-120
110-140
Pilot Weight [kg] (all up paramotor)
Trike*
75 - 120
140*
100 - 145
165*
125 - 165
185*
Canopy Weight [kg]
5.5
5.85
6.1
Root Cord m
2.76
2.76
2.76
Tip Chord [m]
0.53
0.53
0.53
Length of Lines on B [m]
6.65
6.95
7.25
Total Length of Lines [m]
301
321
346
* Higher load is recommended for use with a trike.
| V-min [km/h] | 21 |
| --- | --- |
| V-trim [km/h] | 35-39 |
| V-trim off [km/h] | 48-50 |
| V-max [km/h] | 62 |
| Min Sink [m/s] at optimal wing loading | less than 1.05 m/sec |
The glider is made from tear resistant Ripstop Nylon cloth, which is P.U. coated to zero porosity and then siliconized to give the fabric high resistance to the elements. Different cloth is used for the top, bottom and ribs due to their different functions. The lines are made of superaramid covered with a polyester sheath for protection against UV, wear and abrasion. The bottom section of the brake lines is made of polyester because of its better mechanical properties. The karabiners that attach the lines to the risers are made of stainless steel.
| | Material | Diameter [mm] | Strength [kg] |
| --- | --- | --- | --- |
| Top | Dyneema | 1.1 | 95 |
| Mid/Stabilo | Super Aramid | 1.2 | 120 |
| Bottom (A3/A5/B3/B5) | Super Aramid | 1.8 | 220 |
| Bottom (A1/B1) | Super Aramid | 1.9 | 320 |
| Bottom (C/D) | Super Aramid | 1.5 | 150 |
| Brakes Cascade/ St. Top | Dyneema | 1.1 | 95 |
| Steering Line | Polyester | 2 | 85 |
| | |
| --- | --- |
| Sail Cloth | 42 gr/m2 "Zero Porosity" Ripstop Nylon |
| Rib Reinforcement | FLEXON® batten system |
| Warranty | 3 years / 250 Hours |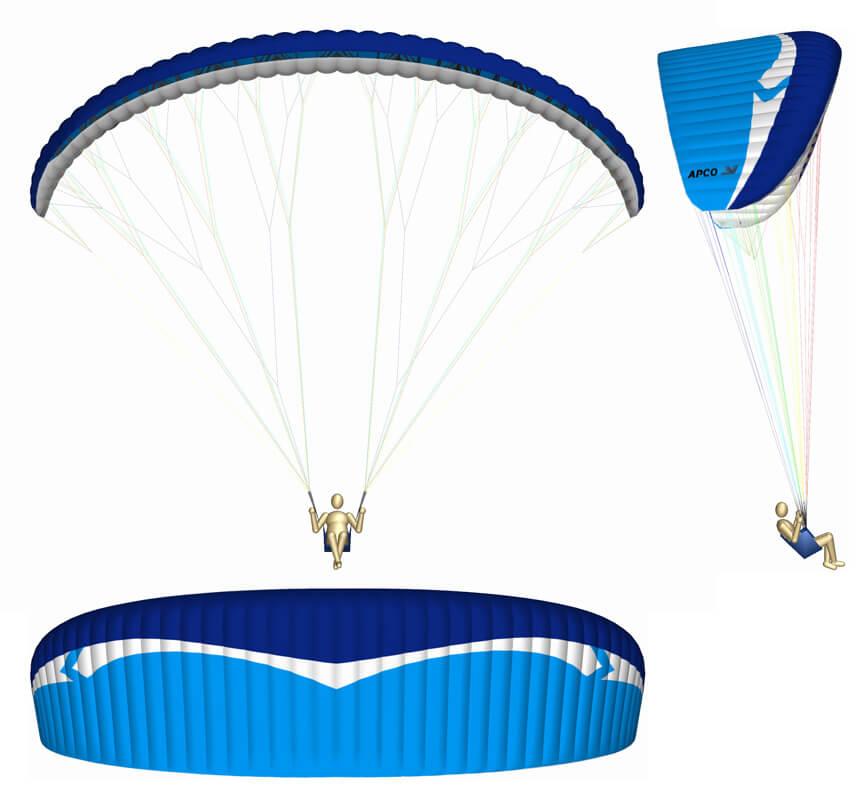 Warranty, manual, stickers, dvd and repair kit
Quality, Durability and Attention to every Detail
Frequently Asked Questions
Lift EZ stability and handling Vs Force 2
Roll stability and handling (maneuverability) are opposites.
The  more stable a wing is, the harder it is to get it to turn, rendering the handling less efficient.
The Handling on the Lift is less efficient then the Force2 but is is more roll stable!
I was wondering if an Apco Lift-EZ is an acceptable wing for free-flying in addition to using a motor?
Yes – it's possible.
The Lift EZ was designed for Paramotor use and that it where it excels!
With that using the wing for free flying perfectly safe and possible.
As a reflex profile wing, it will not have the glide ration of parallel free flying wings but for occasional opportunities it is perfectly capable of free flying.
To use in free flying, please keep trimmers in neutral position, on the Blue marking.
The neutral position means that all riser legs A,B,C,D are equal in length which is the free flying configuration.