SLT LOW MKII
AUGUST 2020
:: EN/LTF full certification ::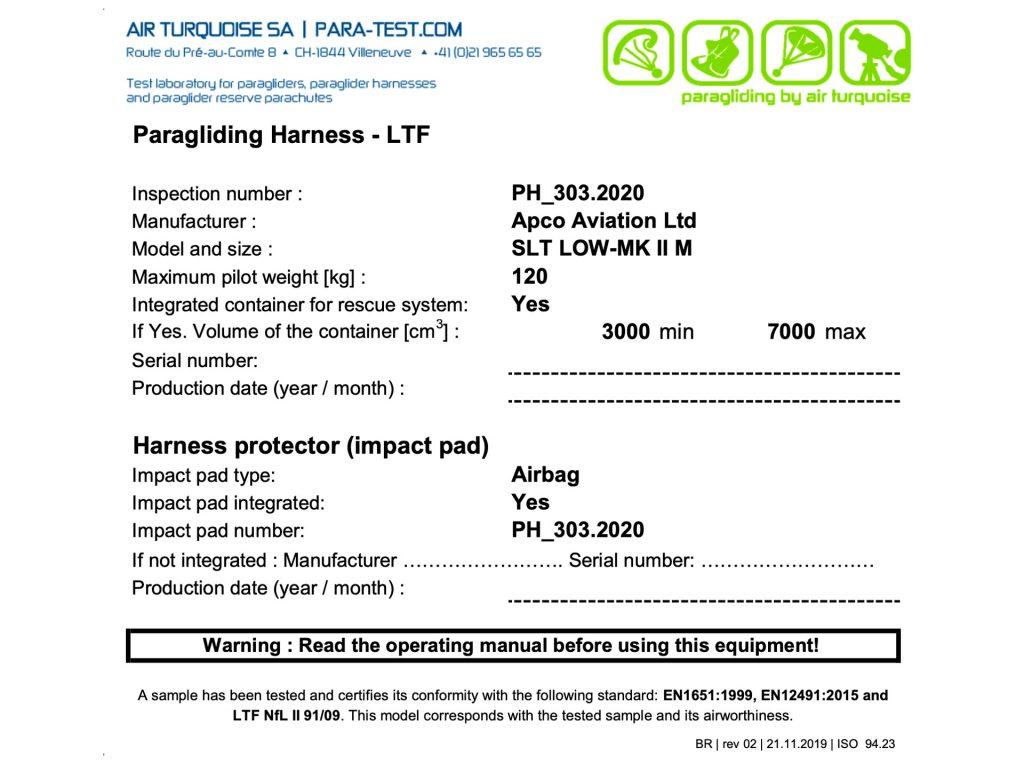 SuperLight (SLT) Low MKII universal paramotor harness is now the only paramotor harness to have full and complete EN and LTF certification.
Unlike other harnesses on the market which may have been load tested for strength, this certification confirms all main parameters of the harness, including:
Constructional StrengthReserve Container safety and proven deployment sequence functionalityAirbag protection
For more information please see the product page >>
The SLT Low MKII is feature packed with many more safety options, covering most paramotors on the market, with certification to back it up.
To explain, the meaning of the certification, let's break it down into 3 points:
Constructional strength – using a dummy the strength of the harness, mainly the webbing structure, was confirmed to hold loads of up to 15G for a pilot weight of 120kg. This practically means that in case of an accident or reserve deployment, the harness can hold a load of 1,800kg!
Reserve container – our zipped-on emergency parachute container was tested and approved for proper reserve deployment sequence even in high G force emergency situation. The purpose of the test is to prove that even if the pilot is caught in an extreme spiral or any other emergency situation, he can still reach the handle and deploy the reserve parachute without any failure throughout the chain of: reserve handle => opening of the external container => pulling out the internal container=> extension of the reserve bridle out of the routing sleeve. From here on if emergency parachute used is certified then all aspects of the deployment sequence are covered.
Airbag – the difference between walking away from an accident to breaking your back!Our airbag was proven to perform with outstanding results. The test measured a G rating of less than half the required amount for certification within the strict requirements of both EN and LTF (German) certification.